It was Australian or maybe New Zealand folk-rock outfit 'Crowded House' who said,

'Everywhere you go,
always take the weather with you'
This is clearly gibberish. So, in the interests of taking something more useful with you 'everywhere you go', why not take part in our 'Global Partner Programme'.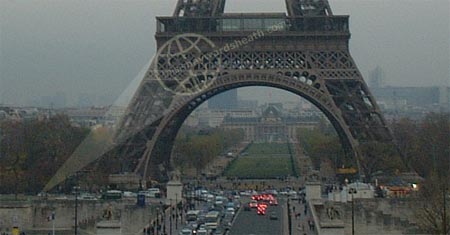 The logo projected onto a Paris landmark
How does it work?
Wherever you may be in the world either in residence or on holiday, we'd like you to take a picture of youself holding our logo and send it into us. All your pictures will be published in our Global Partner Programme Gallery.
What do I have to do?
1. Download our logo by clicking this link. You can print it any size but the bigger the better.
2. Take a picture of you and our logo. You don't have to be abroad, even places in the UK count.
3. E-mail your picture to global@thisishaywardsheath.com telling us where you are in the world and any other information you'd like to appear with your picture. If you would like us to mosaic out your face like they do on Crimewatch, just tell us.
Our logo is in Adobe Acrobat format. If you don't have Adobe Acrobat you can get it from www.adobe.com
Where will my pictures appear once I've sent them to you?
We have a special gallery page where we'll put your picture. You can get to the gallery by clicking this link.