If you want to experience Haywards Heath without having to leave your car then there are plenty of things to see that require little or no effort.
Haywards Heath has a Magistrates' court which is the administrative centre for all speeding offences and petty crime in Mid Sussex. Not many people have been murdered here. The court shares its site with the police who have several Volvo police cars and an off-road 4wd, presumably for the school run. They also have a dog unit housed in a highly reflective van. The local liaison point between the police and the general public is at our ever friendly Budgens metro. The professionalism of our local force is beyond question.
Beech Hurst Gardens is located on the A272 on the border of Haywards Heath and probably Cuckfield. It's in Haywards Heath. Beech Hurst is currently owned by the council but don't let that put you off. Beech Hurst has a model railway (inc. a tunnel) that is the envy of Burgess Hill. It has a 9 hole pitch n put golf course and an all weather bowls facility, out doors. Beech Hurst used to play host to an example of the Brewsters chain of family restaurants. Sadly, Brewster bear has left town and has been replace with a Brewers Fayre chain of family resturants. Read about it in our 'cuisine' section.
Don't worry about crime while visiting the gardens as the local Police Station is just next doo to teh courtr.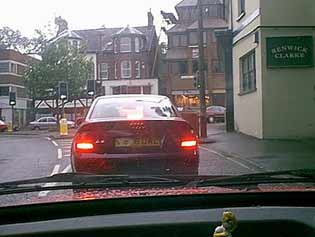 The one way system under green light conditions
The one way system (pictured right in full flow) is the focal point of the town since the majority of the population has spent several hours on it. Since the introduction of traffic lights, it has become one of the main meeting places in town where you can go for a chat at any time of day. There are about 20 lights in a 30 metre square area. It looks great at Xmas. But only in the dark. Road rage is practically non existent between the hours of nine and five. The lights are considered a triumph by most people in Haywards Heath. (who don't have cars)
Muster Green is the first Green belt area before the main shopping arena. Around £20,000 is spent each year on flowers and things for the green. The Green is predominantly green, apart from the flowers. On the Green is our War monument. This was erected when most of the town was still fields. The council goes to great lengths to mow stripes into the green.
The church, situated on Church Road, has bells that ring on the hour, every hour. It has been the location for many happy marriages and funerals. The divorce rate is aprox. 1:3. They do carols at Christmas. I'm not sure what religion it is - sorry. They also collect tinned peaches for the Harvest festival, probably.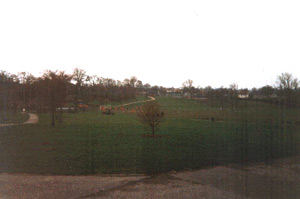 victoria park - simply glorious
Victoria Park is located in the heart of Haywards Heath. It boasts three tennis courts, a football pitch, a children's play area and an adventure playground. All paths have been lovingly concreted apart from the children's area which has rubber chip matting. In the summer the children's paddling pool is filled with warm water but in the winter it is filled with dirt. Victoria Park has over-come its dog dirt problem by pioneering the use of special bins. Dogs are not allowed in the children's play area.
Victoria park is also a popular meeting point for people too young to go into pubs. Rather than play on the swings, they drink vodka, smoke conventional and/or exotic cigarettes, puke and probably use foul words like ***t.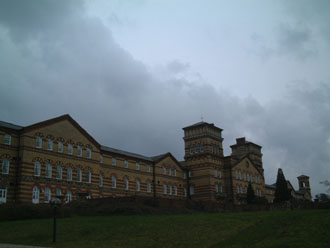 southdowns park flat complex - haunted?
One of the oldest buildings in Haywards Heath that hasn't been knocked down and converted into a video shop is the Victorian mental complex, The St. Francis Hospital. There are no crazed nutters there now though as the whole complex has been converted into yuppy-style condominiums for people with BMWs. They include ALLOCATED parking (yes you in your Corsa, 4 weeks your car was in my bloody sapce), electric windows and a fitness centre. Most come with running water and combination floor/ceilings.
Haywards Heath boasts a multi platform station. Its facilities include two snack bars and two heated waiting rooms and it's the envy of Burgess Hill. The station is by far the quickest way out of Haywards Heath and provides easy access to the cosmopolitan town of Brighton and our nation's capital. Which is London. The station also features 3 levels of pre-recorded apology in the unlikely event a service is delayed.