Haywards Heath has, among local residents at most, an international reputation for fine cuisine. Although Haywards Heath can boast eateries in both of its four corners, many restaurants and takeaways are situated on the Broadway. Located just a short drive away from ample parking, the Broadway can be considered as Haywards Heath's cosmopolitan restaurant district.
Haywards

Heath has for many years faced a relentless onslaught from global burger chains intent on setting up shop in this classic picture of rural English splendour. Like Churchill, Haywards Heath has stood firm and served the people's burger needs with fine cuisine from Star Burger. Sadly, and suddenly, the shutters of Star Burger were lowered for the last time at the end of summer 2004. With the ace missing from the town's winning hand of fast food cards, it looked like Haywards Heath was about to be McTurmpped maybe by a King or a fried chicken chain. But no. Help was at hand from one of Britain's greatest fast food institutions, Wimpy.

One could be forgiven for thinking that Wimpy had been tailor made for the residents of Haywards Heath. As Burgess Hill so ably demonstrates, some people are quite happy to use thier fingers to consume chips and such like from plastic troughs for one and allow dignity and civility to wait in the car. Wimpy on the other hand presents its patrons with a full aray of cutlery, far more 'Haywards Heath' we're sure you'll agree.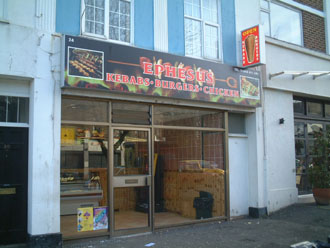 Ephesus - kebab central
Ephesus Turkish Delicacies is the finest kebab shop in Mid-Sussex possibly the world. Their vast array of kebabs which include small, medium, large and extra large attract the most discerning clientele. Their chili sauce is getting better every week. Chips are provided as the vegetarian alternative. Burgers and fish are also available but take longer to prepare. If you want to be king for a day, order an Ephesus Special and delight as the staff beam with anticipation and uncontained respect. It truly has to be experienced to be believed. Their full menu can be viewed here. Ephesus underwent substantial renovation and now sports a Mediterranean style decor replacing the previous ancient temple look.
Located on the site of the sadly defunct Rose of Bengal (see tribute below), is the Four Continents Takeaway. Our initial review of their opening week's wares can be found here. Following an e-mail from a 4 Continents employee we decided to review their Turkish range a second time in the hope that things may have improved. The second review is available here.
The Broadway is the culinary heart of Haywards Heath. In addition to Ephesus the Broadway boasts cuisine from Italy, France Spain, China, India, England and America. Pizza Express and Cafe Rouge provide the option of eating alfresco all year round. Security and comfort is guaranteed following the introduction of CCTV cameras. Muggings and Shoplifting from restaurants has been cut to the bone.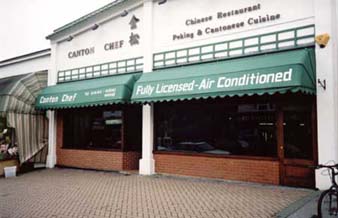 Swanky - The Canton Chef
One of our readers, Ian, has personally recommended the Beijing Gallery run by Auntie Yung. Ian also recommend the Canton Kitchen Chinese takeaway and made no less than 18 visits during the month of August. His loyalty was duly rewarded with free prawn crackers though we understand this was a personal offering to Ian and not part of the set menu. Also on the Broadway, and pictured left, the fully air conditioned Canton Chef.
Haywards Heath has a strong Indian presence and can provide both take away and sit down Indian meals. The contemporary Nizam restaurant now sits on the cutting edge of indian restaurant design and contrasts beautifully with surrounding estate agents. If you're at the other end of town, why not try the Curry Inn it's next to the Burrel pub and a computer help centre. If you prefer to take your meal away, may we suggest Kashmir on Park Parade. Kashmir are the self titled Balti Specialists and will cook dishes not on the menu if they know how.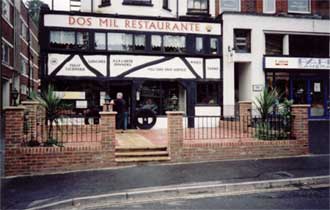 Blue India

Blue

India is the most recent addition to Haywards Heath's gastronomic assult course. In keeping with its title, Blue India serves indian food although neither the food nor the service could be described as blue. Blue India sealed its reputation as a more upmarket eatery by having Eurovision winner and star of Eggs n' Baker, Cheryl Baker officially open the resturant. Some might argue its reputation took somewhat of a backward step when rock/brit/pop 'sensation' Robert Williams, formerly of Take That, also attended the opening. We don't agree as we're big fans of Robert's work, particularly his debut solo single 'Faith' previously made popular by the then 'in' George Michael.

Italian

food has been part of Haywards Heath's food landscape for years. XXX The Broadway has been the site of many an Italian eatery and its current occupants Viva are continuing that tradition. Sadly, in spite of Viva having absolutely nothing to do with the previous occupants what-so-ever, some people have chosen to boycott the place ever since they were served a small portion at thier 18th birthday meal in 1991 and had to go over the road to Ephesus to fill up on kebabs.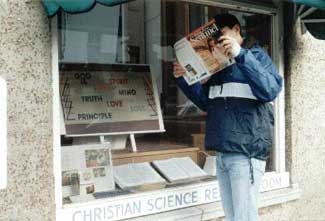 Christian Science Reading Room
Some years ago the Christian Science Reading Room (pictured below) was converted into a pizza restaurant, exotically named 'Zizzi' (pictured below). To complement the exotic name the owners have planted two palm trees outside making them the first palm trees to front a commercial building in Haywards Heath.
The introduction of tropical palm trees has prompted this guide to declare a "Heath-wave" in this particular area of the town.
Often overlooked due to it's location outside of the main restaurant district, Kingfisher is the town's only fish 'n chip restaurant boasting both in and out door dining facilities. Kingfisher celebrate the arrival of summer by erecting three quarter height paneling around their forecourt thus providing a private yet well ventilated out door eating realm for patrons. It's also close to Lavender motors which is ideal if you require both chips and car accessories.
The petrol station on Franklynn Road can supply Pot Noodles, pasties and chocolate 24 hours a day. They have a lottery machine.
Tribute
Some years ago the Rose of Bengal closed and was replaced with the Four Continents Takeaway. Having personally sampled the delights of their cuisine and their extensive collection of car magazines we remain particularly saddened by its closure. The professionalism with which they would greet the request 'I'll have one of those red ones and some naan' was unrivaled in the town. As a tribute, a picture of the Rose of Bengal will remain in the pictorial tour.