In March 2002 we reported on the introduction of the Euro in many of Britain's european partner nations.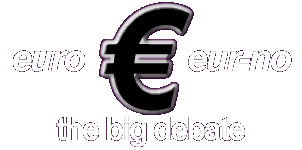 On January 1 2002, Euro banknotes and coins were introduced in the 12 eurozone countries, Austria, Belgium, Finland, France, Germany, Greece, Holland, Ireland, Italy, Luxembourg, Portugal and Spain. This landmark change in Europe's financial landscape has prompted much debate and in this special feature we attempt to answer several key questions and try to explain how the Euro will affect Haywards Heath.
Question: Is there much substance to the argument that the introduction of the Single European Currency, and with it the submission of control over the instruments of monetary and fiscal policy to the European central bank, will marginalise certain participating European economies paradoxically leading to regional variations in the effectiveness of what is intended to be a pan-European economic policy designed to enhance the economic prosperity of the region as a whole?
Answer: Well......it's horses for courses really.
Question: Does Haywards Heath accept the Euro?
Answer: NO. Haywards Heath has yet to enter the eurozone. In the event that Britain does adopt the Euro Haywards Heath will likely remain in its own Sterling zone or indeed break away from the Union altogether so as not to be overrun by roaming gangs of national stereotypes from the continent. While the pound would remain, the image of the Queen would likely be replaced by our local MP, Nicholas Soames on all but the £50 note.
Question: But I've heard that some shops in London accept the Euro, are there no shops in Haywards Heath that duplicate this practice?
Answer: Though we haven't checked the answer is NO. You may also have problems spending Scottish money and any issues of the £1 coin featuring Welsh iconography (dragon,leek, Shirley Bassey).
Question: I live in Haywards Heath, how do I know if a rogue tourist is trying to palm me off with a handful of dodgy Euro bank notes.
Answer: They'll most likely speak with an accent for a start but to help you identify the new Euro notes the table below gives a description including the architectural style represented by each denomination. Clicking on the denomination will show a picture of the notes all of which were designed by Robert Kalina, an Austrian artist representing the Oesterreichische Nationalbank who in December 1996 won the competition set by the Council of the European Monetary Institute (EMI) to design euro banknotes. By the way, if you're a taxi driver in Haywards Heath you need not worry since you rarely accept high denomination notes anyway.
Euro banknotes

Denomination
 

Size
(mm)

Colour
 

Architectural
period

E500
160 x 82
Purple
Modern 20th century design
E200
153 x 82
Yellow-brown
Iron and glass architecture
E100
147 x 82
Green
Baroque and rococo
E50
140 x 77
Orange
Renaissance
E20
133 x 72
Blue
Gothic
E10
127 x 67
Red
Romanesque
E5
120 x 62
Grey
Classical
Question:
Is there any way I can use the Euro to my advantage?
Answer: Certainly. Having a selection of Euros in your wallet and 'accidentally' trying to pay for things with them will lead people to believe you regularly travel in the eurozone either on holiday or for business purposes. They also serve as a interesting conversation piece at dinner parties or the golf club where we advise you to use phrases such as 'Mickey Mouse money', 'Monopoly money', 'toytown money' and 'eurocrat'. You could also use the discussion as an opportunity to accuse the French of 'collaborating with the Germans just like they did in the war' but in the same breath extolling the virtues of a weeks holiday in a Provencal gîte.
So to recap. Haywards Heath does not accept the Euro.
If you care, the table below has details about what the Euro coins look like.
Euro coins - national designs

Country
Features
Austria
 
A separate design for each coin, influences come from art, architecture, leather shorts and flowers.
Belgium
King Albert II's portrait. All coins will have chocolate in them.
Finland
 
 
Three designs based upon motifs similar to those used on national coins. E2 will have cloudberries and cloudberry flowers and E1 will have flying swans. The euro cents will have a heraldic lion on them and an explanation of what a cloudberry is.
France
 
E1 and E2 coins will have a tree symbolising continuity and growth. The euro cents will have an image of a sower or a Marianne and naturally be better than everyone else's.
Germany
 
 
Traditional symbol of German sovereignty, the eagle, surrounded by the stars of Europe on the higher valued coins. The Brandenburg Gate will appear on the euro cents as will the price list for the entire range of Mercedes passenger vehicles.
Greece
 
A separate design for each coin, influences come from Greek mythology, history, politics, Prince Philip and shipping.
Holland
 
E1 and E2 coins will differ slightly from the euro cents in that they'll be highly pornographic. Queen Beatrix features on all of the coins but not the E1 and E2 coins.
Ireland
The Celtic harp and the word "Eire" will appear on all coins.
Italy
 
Each coin has a different design. Designs have been selected from masterpieces by Italy's famous artists, included are Leonardo da Vinci and Umberto Boccioni. The reverse of all coins will be highly polished so they can be dropped on the floor and used a crude mirrors to look up ladies skirts.
Luxembourg
 All coins will bear the profile of Grand Duke Henri and an explanation as to why the Luxembourg Formula 1 Grand Prix is always staged in Germany.
Portugal
 
 
The royal seal of 1144 will appear on E1 and E2. The royal seal of 1142 will feature on 10, 20 and 50 cent coins. The first royal seal from 1134 will appear on 1, 2 and 5 cent coins. Boring, aren't they?
Spain
 
 
 
E1 and E2 coins will have a portrait of King Carlos 1 de Borbon y Borbon. Miguel de Cervantes, the father of Spanish literature will appear on 10, 20 and 50 cent coins. The cathedral of Santiago de Compostela will feature on 1, 2 and 5 euro coins as will the image of Aranxia Sanchez Vicario committing a foot fault at the Roland Garros Open Tennis Tournament in 1993.
Spend your British pounds in one of Haywards Heath's many
boutiques
.