This year marks 50 years since a young Princess Elizabeth succeeded to the throne and became Queen Elizabeth II. Here at thisishaywardsheath.com we're proud of the town's many Royal connections and offer these pages as a tribute to Her Majesty.

Though the Queen has probably yet to visit Haywards Heath she did make a controversial visit to Burgess Hill some years ago. Not to be outdone, Haywards Heath boasts royal visits by The Prince of Wales and Her Royal Highness Princess Anne, The Princess Royal.

Almost two years to the day, Prince Charles (next in line to the throne) visited Haywards Heath in a blaze of glory. He chatted to some of the locals, met up with his friend and local MP, Nicholas Soames, and visited Oathall School farm. We reported on this visit in our now defunct news section.

In 1991 or maybe 1992 equine fan and royal princess the Princess Royal conducted a whirlwind tour of the town. The impression she left has been lasting. She opened a new extension to the Dolphin Leisure Centre which is now being replaced by a newer extension that moves the entrance to where it was before. The Princess Royal also gave her name to the local hospital, the Princess Royal.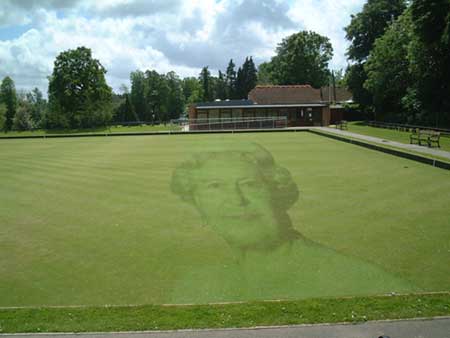 Haywards Heath bowles club, based at Beech Hurst gardens, have paid special tribute to the Queen by having their skilled chief grounds-keeper mow an image of the Queen into one of the upper club greens. The grounds-keeper declined to mow much below the neckline out of respect for Her Majesty. The club will be hosting a jubilee bowles tournament over the bank holiday weekend. The club will be open to allcommers especially poorly supervised children and those with inappropriate footwear. Tea and ices will be available at the snack window near the toilets.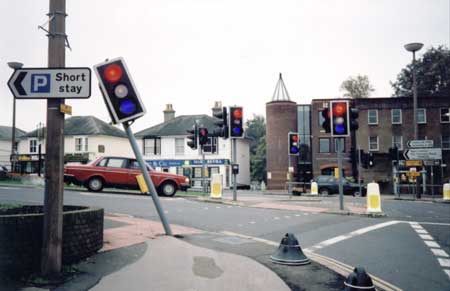 With blatant disregard for the highway code the local council have changed the colour of all traffic lights in the town so they now show combinations of the traditional celebratory red white and blue.
Click here for a unique reader offer